Setting up your Aidstream account
IATI files are written in XML markup language. To create your IATI data files you need to use a publishing tool, service or bespoke system. They should not be typed by hand and can't be created by saving a document in another format as an XML file.
That means the process to publish IATI data will look like:

There are various solutions available to help you create your IATI files. A limited list of solutions can be found here or here.
Why Aidstream?
Currently, Aidstream is the only free publishing tool and is used by the majority of IATI publishers. Because it is also the go-to-tool for most of our partners, we'll cover a few essential elements of setting up your Aidstream environment.
Setting up your Aidstream account
In 2020, Aidstream introduced a premium service, which requires a paid account. If your organisation publishes IATI for the first time, a free account will suffice.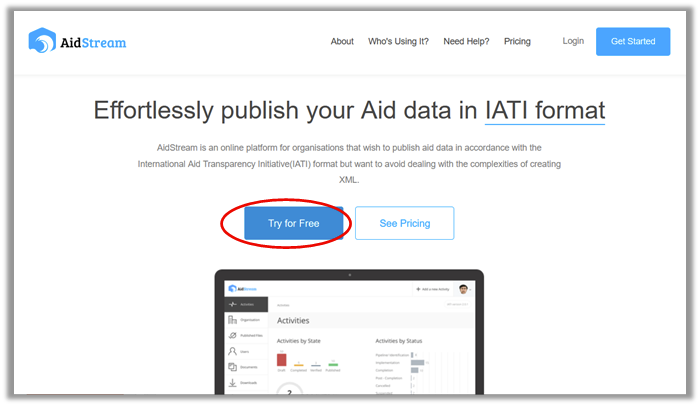 When your organisation publishes more than 20 activities through Aidstream, you will enter the premium service.
Register your organisation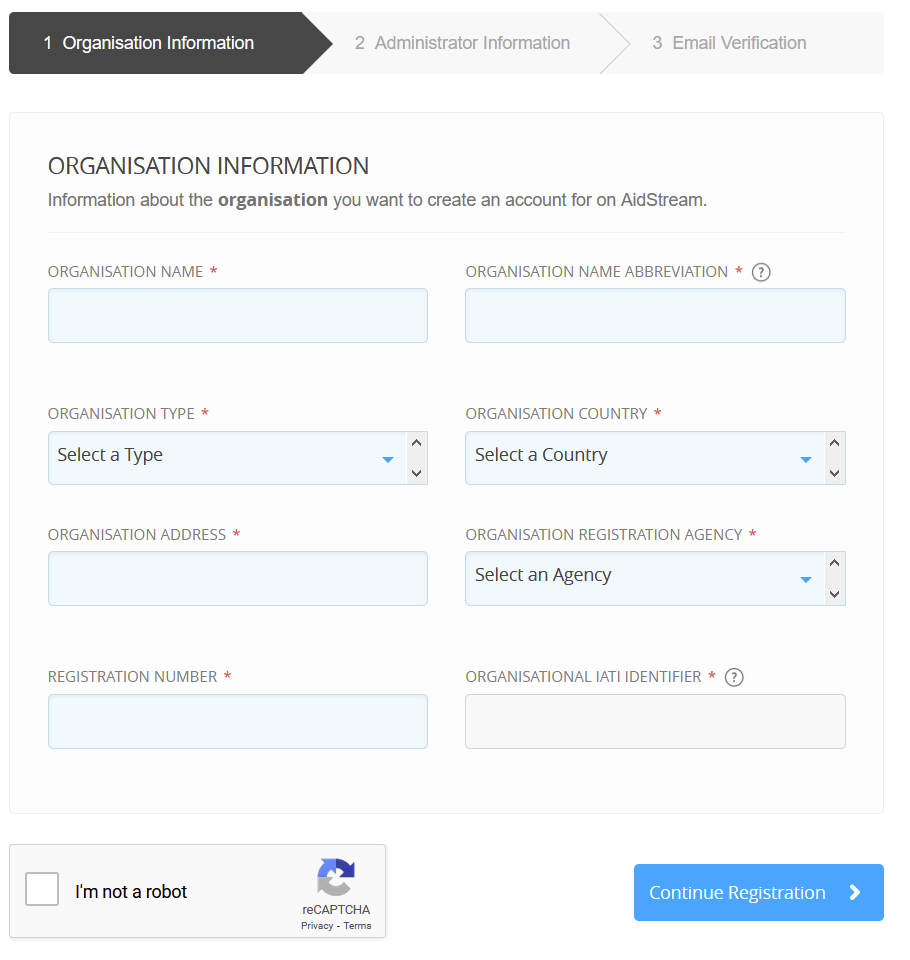 Organisation Registration Agency – use the same registration agency you used to create your Organisation identifier
Registration Number – your organisation's registration number with the registration agency
Should you get the option to register for a 'Core' or a 'Lite' version of Aidstream, make sure to select 'Core'!
Finish setting up your account
In the menu on the left, go to 'Settings', then select 'Publishing Settings' at the top of the screen: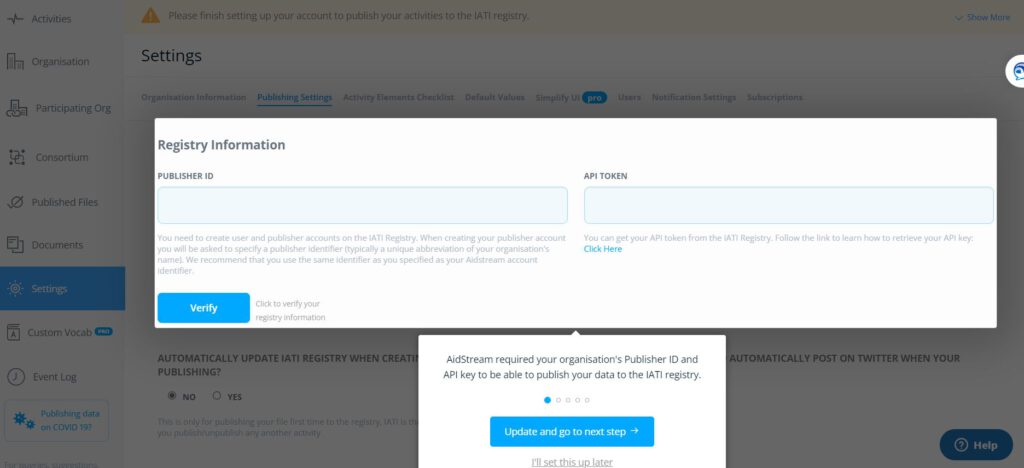 Publisher id – is the unique name you chose for your organisation, when you registered at the IATI registry.
API token – You get it on the IATI Registry when you are logged in as an admin. More info on the token in our article about registering as an IATI publisher.
Click 'Verify' to make sure Aidstream can connect to the IATI Registry with the information you have entered.
Scroll down to 'Automatically update…' and set to 'Yes' if you want Aidstream to directly publish your activities.
Save your changes.
Activity Elements Checklist
Go to 'Activity Elements Checklist' at the top of the screen:

You will notice that by default not all the available IATI elements have been checked.
In order to publish a full IATI data set that meets the NL MFAs requirements, you'll need to select a few more: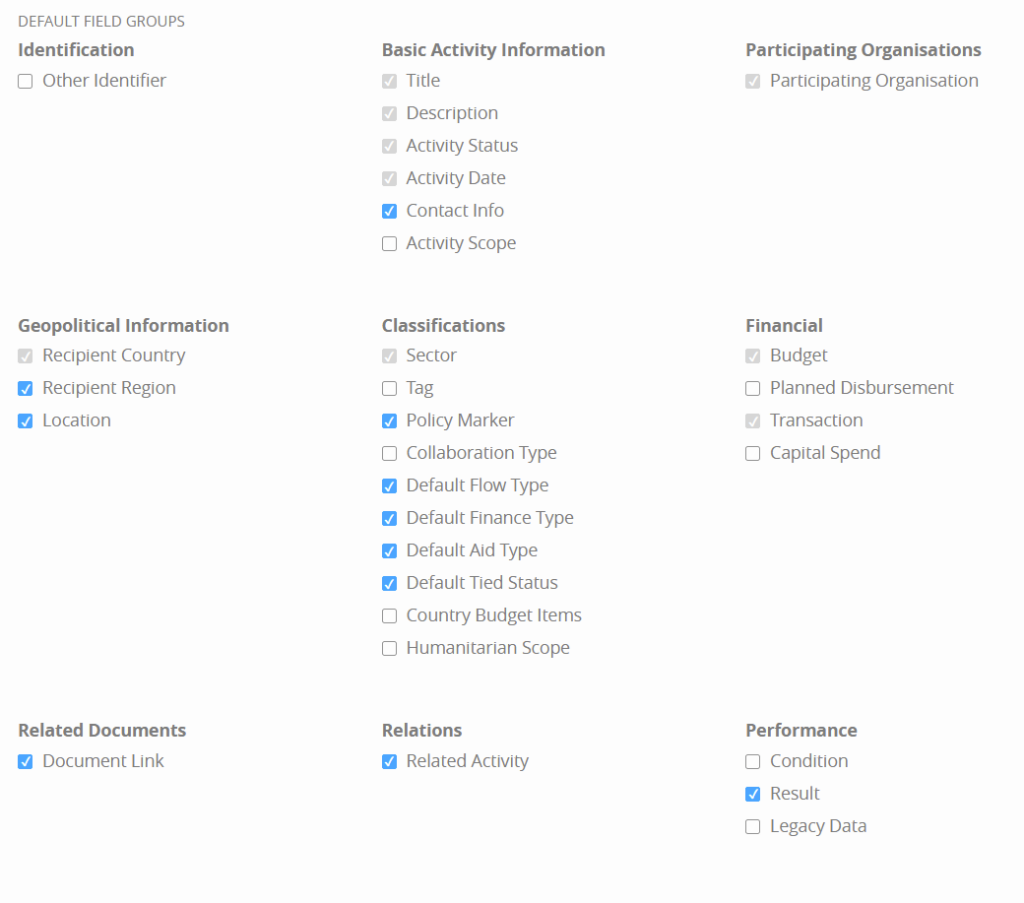 Contact info – contact address and email for your organisation
Recipient Region – only needed when your organisation carries out global or regional activities
Location – needed in case you register specific locations where your activities take place
Policy Marker – used to track key policy issues
Default Flow Type – the classification of your financial flows
Default Finance Type – the classification of your financing mechanism – grant/loan/capital/export credit etc.
Default Aid Type – type of assistance provided
Tied Status – whether there are restrictions on the aid provided
Humanitarian Scope – only needed when your organisation is involved in humanitarian aid
Document Link – will allow you to add documents and websites to your publication
Related Activity – will allow you to show the structure of your activities
Result – needed for publishing results and indicators
Don't forget to Save your changes!
Default Values
Go to 'Defaul Values' at the top of the screen:

These default values will be used throughout your IATI publication, for every new activity you register:
Default Currency – the currency you use in your own organisation / administration
Default Language – the language in which your activities will be published
Default Hierarchy – If your dataset does not contain a hierarchy, leave at '1'
Linked Data URI – not relevant for most organisations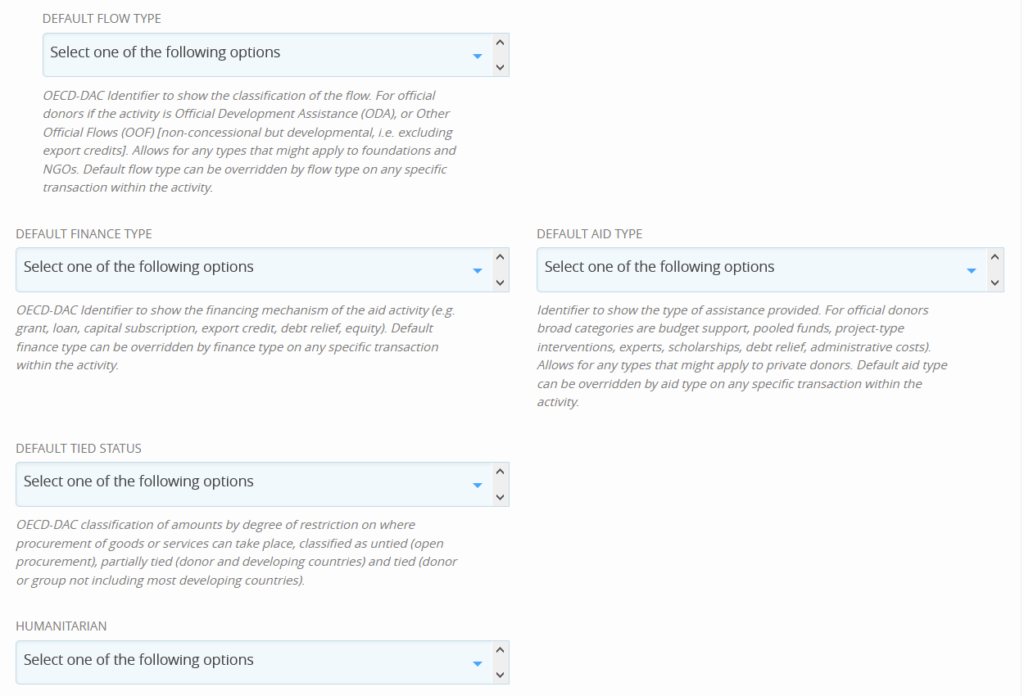 Default Flow Type – for traditional development projects this is typically code 30 – Private Grants. In cases where funds are provided as loans against commercial rates, or capital is provided code 35 – Private Market can be applied.
Default Finance Type – For traditional grant-based development activities this is: 110 – Standard grant
Default Aid Type – for NGOs and CSOs this is typically: C01 – Project-type interventions
Default Tied Status – Tied Status refers to the countries where goods or services for this activity may be procured. For NGOs and CSOs this is typically: 5 – Untied
Humanitarian – set to 'Yes' if your organisation mainly works on Humanitarian Aid
Don't forget to Save your changes!
Now you're all set up!