Getting Started with IATI
The International Aid Transparency Initiative is an open data standard used to promote transparency and accountability in international development and humanitarian aid projects. It is a way in which organizations publish their project information publicly, using an open data standard, so that everyone can see this. Think of it as publishing a project report in a data standard instead of in a word document.
Publishing your activities in IATI
IATI uses the term activity to refer to an organization's program or project, thereby allowing flexibility in how you want to structure your publication. Organizations are encouraged to structure their IATI publication based on their internal programme / project structure and logic. This could mean that published activities take a hierarchical structure of a program -> project structure or could be published as individual projects.
The IATI standard provides a list of elements that can be used to describe your activities. For each of these elements certain definitions and/or codes have been agreed. Together these definitions make up the IATI standard.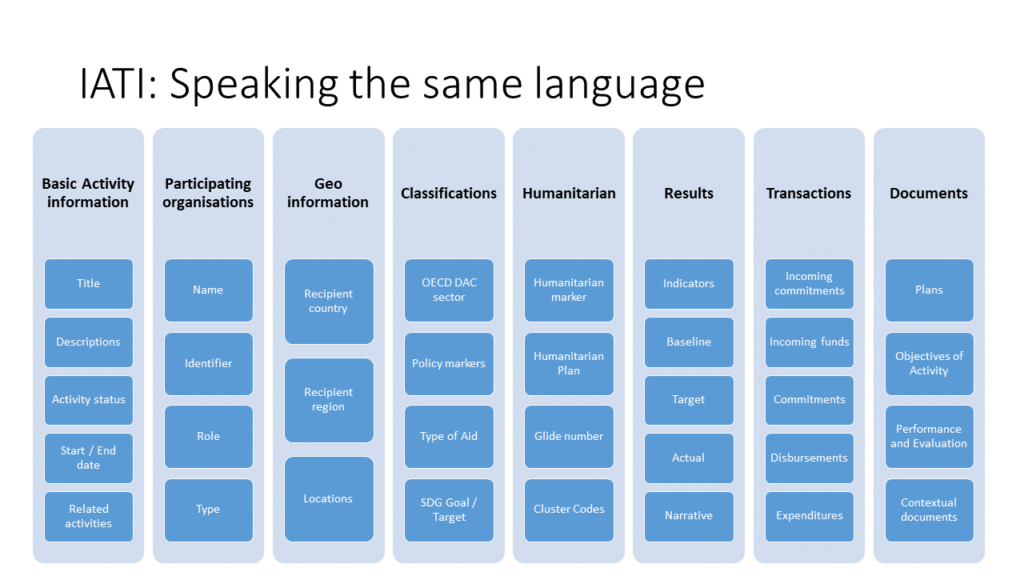 Once your project / programme has been published, you should update it quarterly to reflect any transactions that have occurred or capture any results that have been achieved.
Because the information is published, the Ministry is able to automatically import it into their results monitoring platform, METIS. Staff at the Ministry use METIS to track the progress of projects / programmes and monitor the achieved results.
The following pages provide step-by-step guidance to get started with IATI: