How to register your organisation at the IATI registry
To publish data to IATI you need an approved IATI Registry publisher account.
Create a user account
On the IATI Registry page, click the 'Register' button in the blue bar at the top of the screen. This will take you to a short and simple form where you can create a user account.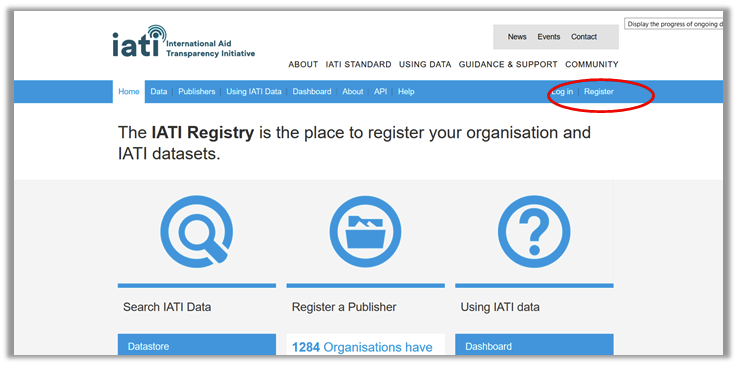 With the user account you can create a publisher account for your organisation.
Create a publisher account
To create a publisher account, log in to your user account, select 'My Publishers' and click 'Add Publisher'.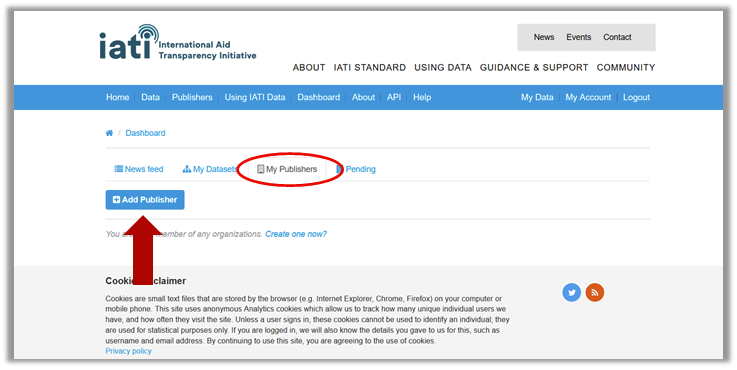 This opens a form asking for details about your organisation and details about what and how often you will publish to IATI.
For your account to be approved, you must complete all the fields in the 'Basic Fields' section:
Publisher id: the unique 'username' for your organisation at the IATI Registry. Usually it is an abbreviation or short version of your organisations name.
Publisher Name: the name of your organisation
IATI Organisation Identifier: this is the unique code that identifies your organisation
Source: if you publish your own data, choose 'Primary'
License: the type of license under which you publish your data. IATI has described the most commonly used licenses. Please note, that whichever option you choose, the data you publish on IATI will be publicly available and 'open' to use by anyone.
Type: the type of organisation you represent
Country: the country you are registered in
Website: your website address (URL)
Address: your organisation's physical contact address
Contact Email: a contact email address
Wait for your publisher account to be approved
The IATI technical team needs to approve every publisher account. This is to ensure that every organisation publishing to IATI is legally registered and has a unique identifier.
The team may contact you for information to verify your IATI Org ID. This usually happens if information about your organisations registration is not available online.
If you've been waiting for more than 3 days for your account to be approved please contact the IATI technical team.
NOTE: if your organisation has published in IATI before, don't create a new account. Just log in with the admin account and update any information that is outdated. If you don't have access to that account anymore, please contact IATI Support on support@iatistandard.org.