IATI and traceability
One of the challenges with current IATI publications is the fact that relations between organisations and activities are not, or only partially defined. Therefore the ministry's guiding principles for using IATI pay a much attention to clearly defining different kinds of relationships and the IATI elements that should be used to represent these relations.
A growing community of people is interested in this subject, given the discussions that take place at the IATI discussion forum. Rolf Kleef is also experimenting with traceability in IATI data.
Just as in real life, relations are what make IATI data interesting. So I was very pleased when Steven Flower reached out. He is working on traceability for UN-Habitat and mentioned that within the existing Minbuza and UN-Habitat IATI datasets, he'd found one example of a set of "paired activities" – activities that have a clear connection:
Looking at MinBuza's activity description, the support from MinBuza indeed is earmarked for the MEKWATSAN programme.
Steven was wondering how this activity should be described following Minbuza's guiding principles.
At the moment –looking at the IATI XML – there is only a weak link between the activities. Minbuza mentions UN-Habitat as the implementing organisation – with identifier 41120. UN-Habitat mentions 'The Netherlands' as the funding organisation, and 17 implementing organisations – with no identifiers. And that's that.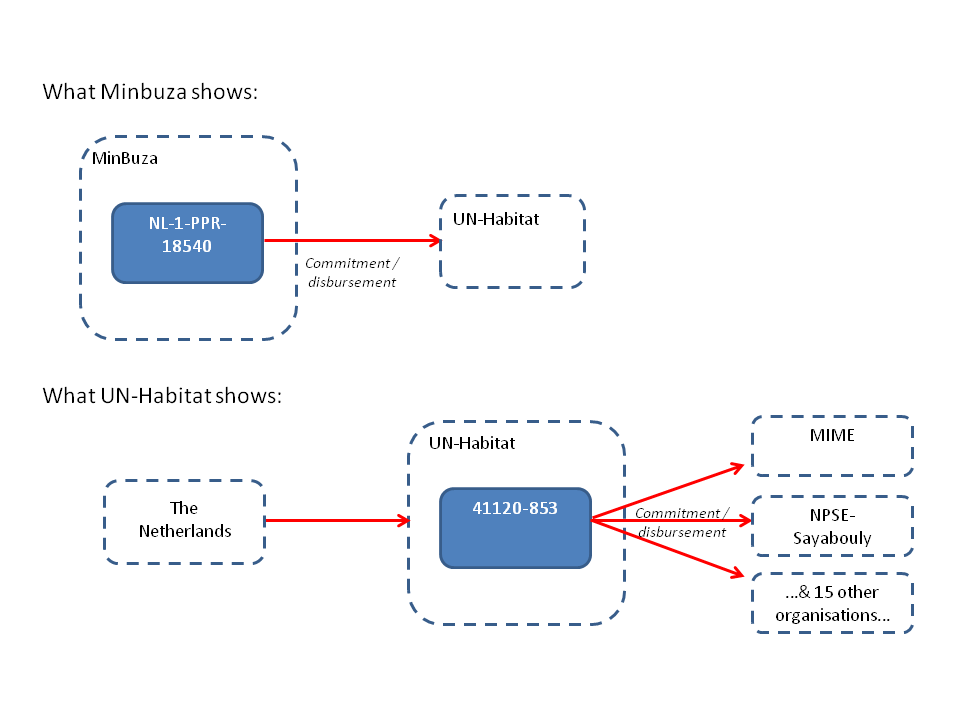 So how do we get from the current situation to a more intelligent 'family tree'?
Basically, three easy steps will do the trick:
Use identifiers for the organisations you work with.
Model the income side of your activities
Show how your own activities are structured
From the available IATI data on both sides, this case seems pretty straightforward:
1 – Use identifiers
MinBuza already refers to UN-Habitat using the official identifier 41120.
UN-Habitat should refer to MinBuza using their organisation identifier (XM-DAC-7). And, where available, should also use identifiers when referring to its implementing partners.
2 – Model the income side of your activities
As a recipient UN-Habitat should also refer to the activity from which it is funded, in this case NL-1-PPR-18540)

3- Show how your activities are structured
Whether UN-Habitat presents this as a single activity or as an activity with more 'children' (e.g. a program with implementing projects) depends on how UN-Habitat manages the activity.
Looking at the description of the MinBuza activity I could imagine a subdivision into 8 implementing activities: "Supporting drink-water and sanitation programmes in eight secundary urban centres in the Mekong Region". But one activity with outflows to 17 implementing organisations is also fine, if that's an adequate model of what actually happens.
These three simple steps will already lead to a more complete picture of the activities at hand. As said: what that picture actually looks like depends on how UN-Habitat manages the activity.
Next: more family relations?
Things could get even more interesting when you look at the project document attached to UN-Habitat's activity: this activity (the MEKWATSAN programme) appears to be part of a (very) large Water and Sanitation Programme/Trust Fund. It would be really interesting to see which donors contribute to that fund, and which programmes are defined to implement its strategic goals. It may not be the easiest exercise, but it would provide a lot of insight – and offer UN-Habitat the chance to show its portfolio and highlight the coherence of its activities.
I'm looking forward to see the next UN-Habitat data set. If you have more examples of networks built out of IATI data, please share them in the comments.